Hudson educator watches Artemis launch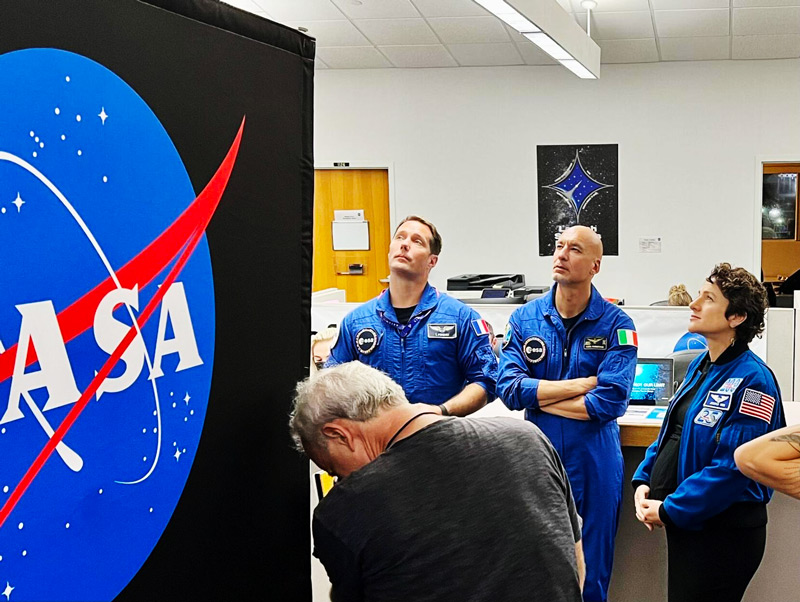 Astronauts watch the Red Team arrive at the launch pad.  Photo by Christopher Mick
A 12-year wait finally came to an end on Wednesday Nov. 16, at 1:47 a.m. when a rocket leaped off historic launchpad 39-B at Kennedy Space Center starting a 26-day mission that will propel the Orion spacecraft in an elliptical orbit around the moon, with a planned return to Earth and an ocean landing on Dec. 11.
It is hard to convey the incredible power and vibration felt during the launch. I have been lucky enough to have seen several rocket launches over the years, and intellectually understood that this would be the most powerful rocket ever launched at 8.8 million pounds of thrust, compared to the former record holder (7.5 million pounds of thrust) of the Saturn V rocket that last took astronauts to the moon 50 years ago in December 1972 during the final Apollo mission, Apollo 17.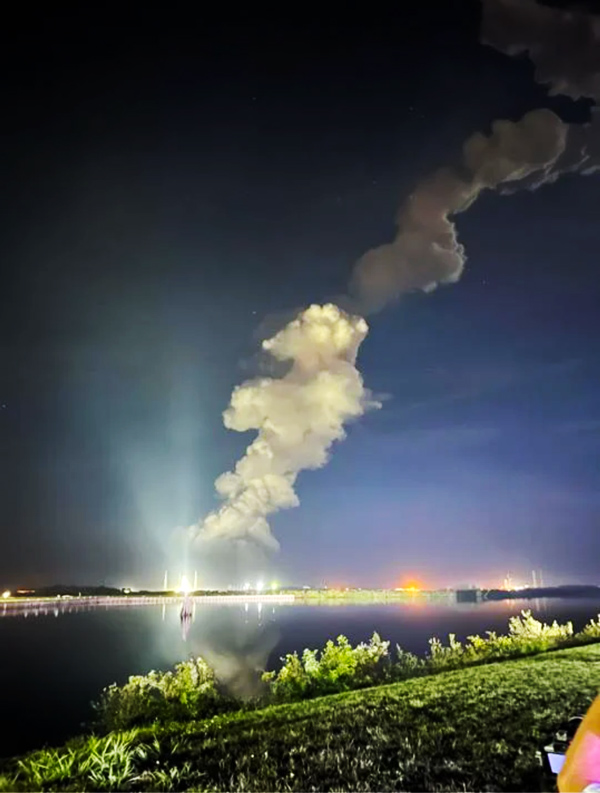 The column of smoke left after Artemis 1 took off.  Photo by Christopher Mick
Loud and bright
I am 52 years old, and therefore too young to have ever seen a Saturn V take to the skies, so I cannot compare the two, but this rocket – called the space launch system – was the loudest, brightest, most powerful aerospace event I have ever seen.
You could see the shockwave interact with the sky and radiate out just after launch. The flash of continual light generated by the largest twin solid rocket boosters ever flown, made it seem like daytime in the middle of the night.
Seconds later the vibration and sound reached us at the NASA press site. You could feel it in the ground, against your chest, the sound waves making a ripping noise in the night sky as the impossibly bright glow started to arc away from the launchpad over the Atlantic Ocean to continue its ever increasing acceleration to Earth orbital speed of over 17,000 mph.
Watching from the vantage point of the countdown clock, with journalists, photographers and news crews from around the world, the launch did not occur as originally planned at 1:04 a.m., but issues with the U.S. Space Force encountering a faulty ethernet switch that needed to be replaced and tested for its range controls and the need for a "red team" to drive to the launch pad to hand tighten some packing nuts on a leakey hydrogen refill valve were both resolved successfully.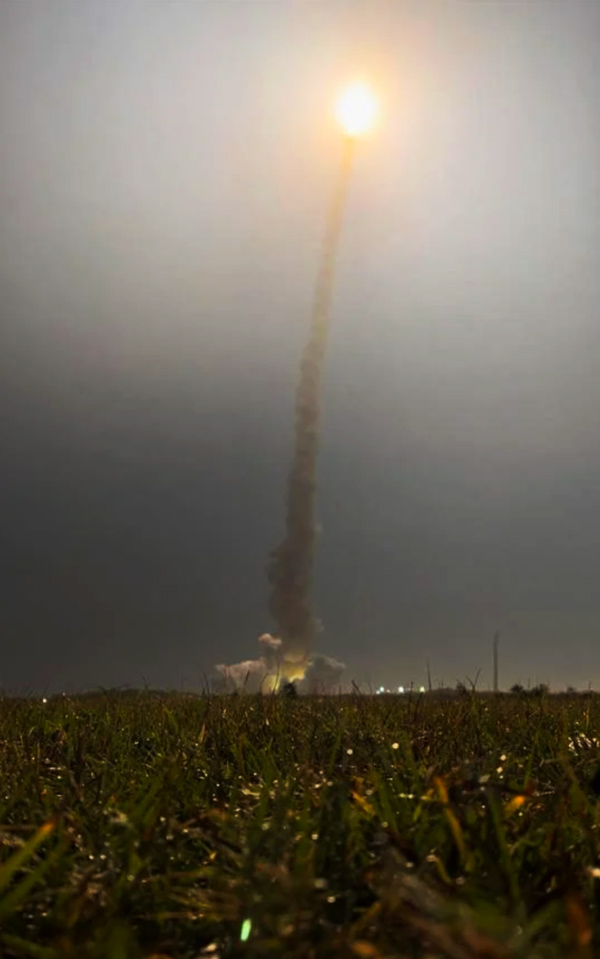 Artemis 1 lights up the Florida sky as it lifts off.  Photo by Christopher Mick
All say 'go'
About 15 minutes before the launch, Charlie Blackwell Thompson, NASA's first female launch director polled the flight controllers, with all providing a "go" in response. For what just moments before felt like the potential for another delay or launch cancellation, for a troubled rocket that NASA has been trying to launch since August, turned instead into an order to set the countdown clock to 10-minutes.
What is the impact of all this?
A new generation will be impacted and inspired in countless ways watching men and women return to the moon to land on the surface and establish a base camp, assemble a new gateway space station in orbit around the moon, explore areas of the moon never before seen by humans and develop and test the technologies on the moon that will be used to get astronauts safely to Mars in the future.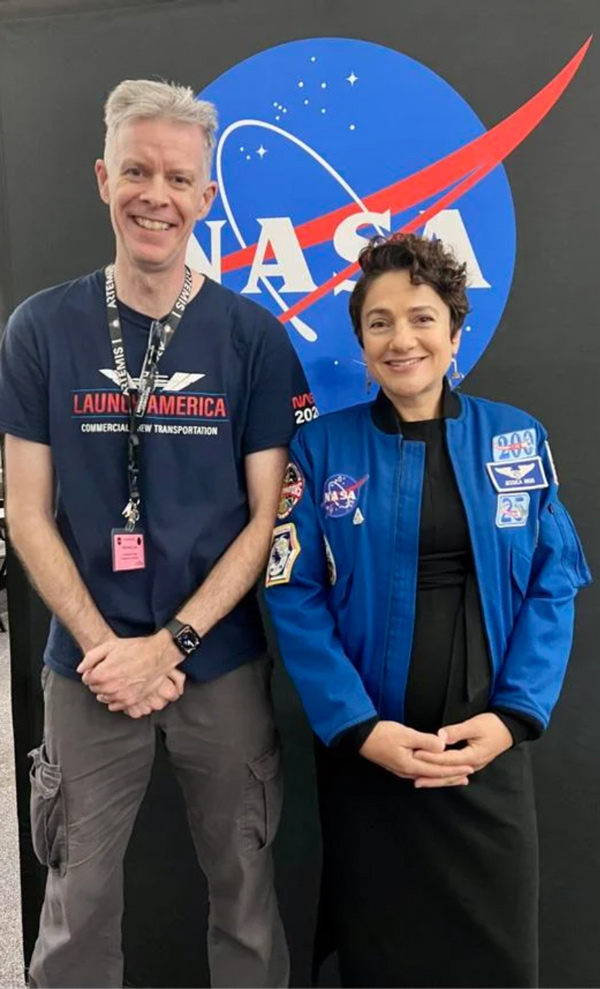 Author Christopher Mick with astronaut  Jessica Meir.Submitted Photo
Hudson connection
Hudson students have been with me on this journey to watch the Artemis program get started. Through classroom presentations, engineering design challenges and video postcards I would send to classrooms from my trips to Kennedy Space Center during each successive launch attempt.
Houlton and River Crest third grade classes, and St. Patrick's fifth graders are just a few of the classrooms that I have sent photos and video tours to so they could follow along with the preparation and progress toward launch.
The all-female members of the Hudson High School Space Club requested I try to interview women working on Artemis when I was there. I am happy to say I was able to deliver interviews with NASA astronaut Jessica Meir and Orion test and launch operations lead for Lockheed Martin, Jacqueline Acuna.
Alexa in space
I asked Acuna after all the years of testing the Orion spacecraft, what is she looking forward to for the first flight of Orion out to the moon.
"One of the things I am really excited about is the Callisto payload onboard Orion. Callisto will test how a voice assistant AI like Alexa could help astronauts ask for data or information on the spacecraft without having to be in front of a particular computer screen," she said.
Acuna waved her hands as she added, "People will be able to interact with the Alexa onboard Orion as well, they can ask their Alexa at home, 'Where is Artemis 1 now?' to get a report."
Acuna said people can send a message to the Orion spacecraft by downloading the (Explore Orion) app.
"Looking forward, it's really exciting that we just recently powered up the Artemis II Orion and service module for the first time and are proceeding with all the integration and testing there, and that will be the first Orion to carry a crew, so I am really excited about that."
I asked Meir, as a potential astronaut on a future Artemis mission, was there any phase of the mission that you are particularly interested in for how it might impact a future crew?
"Well, really all of it. This is the test flight, this is the kickoff for the entire campaign. We need this one to be successful in order for everything else to continue." Meir said. "One of the prime objectives of this mission is to analyze the heat shield and how it performs returning from the moon at a speed we cannot simulate on Earth, and to do that we need to recover the heatshield after splashdown, and that's especially important to us as astronauts, because that is the one thing that literally protects us from burning up in the atmosphere when we come back to reenter the Earth's atmosphere."
Artemis 1's Orion spacecraft and its heat shield are scheduled to return to Earth on Dec. 11 when we see if Artemis passes its final test.